That's new art with the spikey metal guy, but you might recognize the other two. There's no point in being coy—Masters 25 will feature the return of Jace, the Mind Sculptor and Azusa, Lost but Seeking: We will also be featuring All Day Drafts on Friday, March 16 and Saturday, March 17 to celebrate this new release. You can pre-order boxes below, or pre-register for drafts on either day.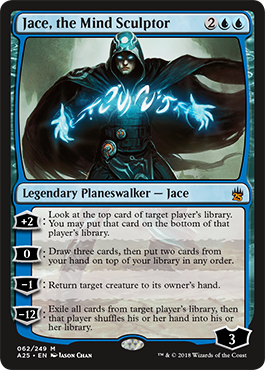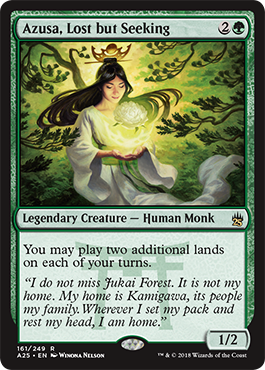 Note the really cool watermark in Azusa's text box representing the original printing. Nearly every card in Masters 25 will have this treatment, even cards originally printed in Limited Edition (Alpha), Beta, and Unlimited!
Masters 25 releases March 16, and full previews will start February 26!
Preorders for Master 25
Want to grab a box or reserve a seat at a particular time slot? You can do so below. Recall that drafts are all day, so you're reserving the a seat at the first open draft to fire, so be here at noon to make best use of your draft seat. Drafts are $35 and include all packs and prize support. Want a box? We have two specials on booster boxes.
The Deckbuilder's Special: Buy a box, get $40 in singles back instantly. That's like getting another $40 in value, guaranteed, in every box. What's the catch? You have to pre-order to get it.
The Dragon's Horde of Points Special: Pre-pay for a box, get double points on the spot. That's 4800 points per box, instantly! You can rent 9 board games, or sign up for for 8 Standard FNMs free! That's $48 in extra value for the event players. Don't play events? You can bank those points literally forever and use them for free boxes in the future!