Commander Legends: Battle for Baldur's Gate prerelease is June 3-9! There are two very exciting things about this prerelease
This prerelease is a draft format, not sealed deck
All non-draft boxes will come with an Ampersand Promo
Let's break those two super important points down, so you can understand why they matter.
Let's be clear; this prerelease is a draft. It's not Sealed like most prereleases. What is a draft?
A format for up to 8 players to open card packs, then play one-on-one games on the spot! Each deck should have at least 40 cards and should last an average length for a game (about 20 minutes).

How to draft: First, players sit around a table in a semi-circle. Each player then opens a booster pack and picks a single card without showing the other players.

Each player then passes the remaining cards to the left, and continues drafting from the new cards they get from the player on their right. This continues until all of the cards in those packs have been distributed (drafted). Then each player opens a second pack, but this time, pass the pack to the right. After all those cards are drafted, you do the same with the third pack, passing to the left again. At the end, each player will have about 45 cards (along with any number of basic lands) which they can use to build a 40 card deck.
So that's different from a normal "open 6 packs" prerelease. We provide all the lands and supplies to play.
We will run 1 draft event per day, for the entire length of pre-release week, plus one event at Nox Cocktail Lounge. Here are the time slots:
Friday 6 pm
Saturday 12 pm
Saturday 4 pm Nox Cocktail Lounge
Sunday 1 pm
Monday 6 pm
Tuesday 6 pm
Wednesday 6 pm
Thursday 6 pm
At home – note that draft cannot be done online, and you will ONLY get the kit if you buy an At Home event.
Register for your time slot here. Each seat is $20. Each draft takes roughly 4 hours.
Winner of a table: 3 packs
All other players: 1 pack
All packs will be Set Boosters of Commander Legends: Battle for Baldur's Gate.
Even when you sit down to draft, you'll notice some changes. The packs will be thicker than usual. Why's that? Because they contain 20 cards each:
1 non-legendary rare or mythic
2 legendary creatures (2U / U+R / U+M / 2R / R+M)
1 foil (of any rarity)
3 uncommons
13 commons
After seating, players will open and add their foil year-stamped promo to their draft pool before beginning. Then you'll open your first booster and draft 2 cards at a time.
After drafting, you'll build a 60-card Commander deck. Unlike other Commander formats, you can draft multiple copies of cards if you draft them (this is unlikely, due to the set size, but possible). You will draft your Commander from the Legendary creatures available in your packs.
Games are played in groups of 3-4 players, instead of 1 on 1. Only the first round is paired, and games are expected to take around 2 hours. After the first game, you can jump into games with other players for even more fun!
What is an Ampersand Promo? Printed for Commander Legends, but delivered too late to be a promo for that set, these promotional foils are stamped with the D&D Ampersand "&" symbol on the face of the card. The set is pictured below.
Due to their rarity and limited production, the least expensive of these promo cards is $25. As of this writing, the most expensive is Tiamat, valued on TCGPlayer at $1000.
These promos are in addition to the regular Buy-A-Box promo. You can get a Buy-A-Box for any box you buy. Ampersand promos are only received for Set and Collector booster boxes.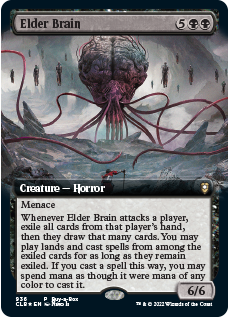 Each Set box you purchase for pickup at prerelease will come with 1 random D&D Ampersand promo. Each Collector box will come with 2. These are while supplies last, and the items on our website will specifically update when promos run out.
Every promo pictured will be given away at least once – why does that matter? Because it means one lucky player will get a Tiamat promo.