Draft Through Eternity
Take a step outside time with Eternal Masters. This exciting set lets you draw on some of the most sought-after cards from throughout the history of Magic—some with new artwork—to enhance your Cube or your favorite Commander, Vintage, and Legacy decks.
Eternal Masters is designed to be a unique and enjoyable Draft experience, much like Modern Masters. It will not contain cards from the Reserved List, but it will feature many exciting Eternal staples, including: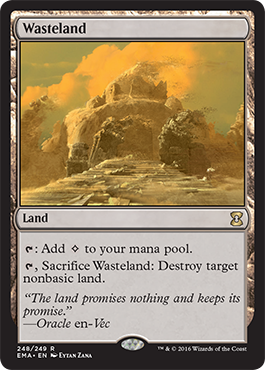 The market is already blowing up on these very limited boxes. Wizards original WPN allocations were 48 boxes per store – these have since been reduced to 32 boxes per store. We expect supplies to be extremely limited, so be sure to pre-order a box or reserve a seat in draft at the store today.
Pre-order a booster box
Pre-orders on booster boxes will be in-person at the store only, through May 22. Preorders only will get a special bracket of Points-based discounting designed to reduce the price significantly for the customers that have supported us since our opening.
Booster Boxes: $299.99
Members may redeem their Member Rewards Points on this product in the following tiers:
1000 Points = 1 box for $279.99
2000 points  = 1 box for $259.99
3000 points = 1 box for $239.99
4500 points = 1 box for $234.99
6750 points = 1 box for $224.99
10500 points = 1 box for $204.99
14000 points = 1 box for $179.99
18000 points = 1 box for $139.99
26000 points = 1 box for $99.99
Due to limited supply, only customers with an active membership will be allowed to reserve a box of Eternal Masters.
PRE-ORDERS ON FULL BOXES ARE NOW CLOSED
Drafts
Booster Drafts will fire on release Friday and Saturday, June 10-11, all day, as we have interest and product.
Release weekend drafts will be $35 / player, 8 players per pod, 3 packs of EM for 1st, 1 pack for 2nd.