Numenera Discovery and Destiny release on October 3. These books will be available individually, or in a beautiful slipcase edition filled with extras.
Organized play will begin with a demo game featuring the adventure, Forgetting Doomsday, at noon on October 20.
About Numenera the Role-playing Game
They say there have been eight worlds before ours. Eight times the people of this planet, over vast millennia, built their civilizations, reaching heights we cannot even fully imagine now. They spoke to the stars, reshaped the creatures of the world, and mastered form and essence. They built cities and machines that have since crumbled to dust, leaving only their barest remnants.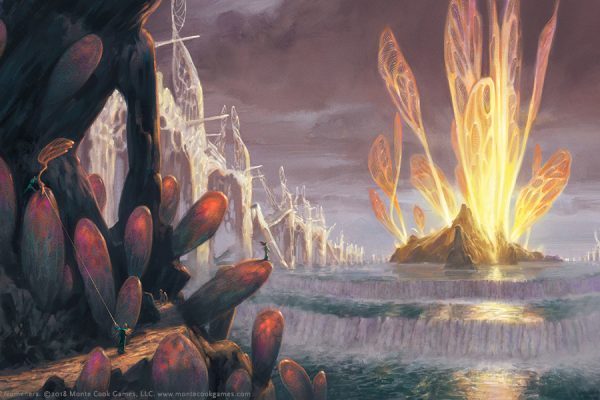 This is the Ninth World. The people of the prior worlds are gone—scattered, disappeared, or transcended. But their works remain, in the places and devices that still contain some germ of their original function. The ignorant call these magic, but the wise know that these are our legacy. They are our future. They are the . . .


Set a billion years in our future, Numenera is a tabletop roleplaying game about exploration and discovery. The people of the Ninth World suffer through a dark age, an era of isolation and struggle in the shadow of the ancient wonders crafted by civilizations millennia gone. But discovery awaits those brave enough to seek out the works of the prior worlds. Those who can uncover and master the numenera can unlock the powers and abilities of the ancients, and perhaps bring new light to a struggling world.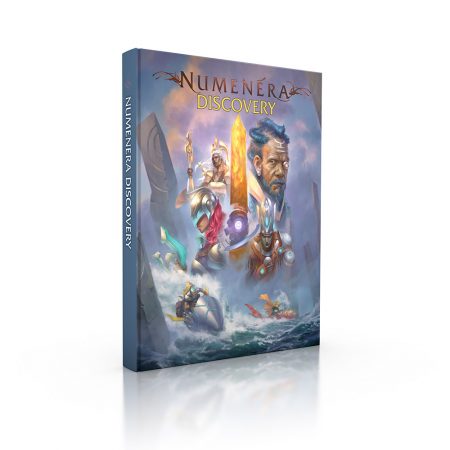 Numenera Discovery
Numenera Discovery is a revision of the original Numenera corebook, which will soon be out of print. Numenera Discovery improves the clarity of the game rules and dramatically increases the options available to players. Nanos, Jacks, and Glaives are overhauled, with expanded abilities. Many foci and descriptors are reworked. Numenera Discovery gives you more options, clearer rules, new adventure content, and expanded coverage of the Steadfast and the Beyond.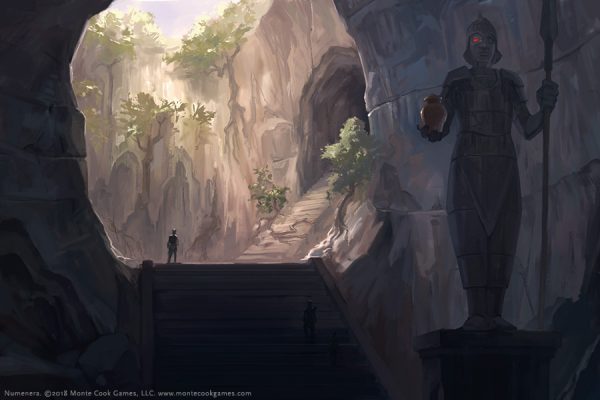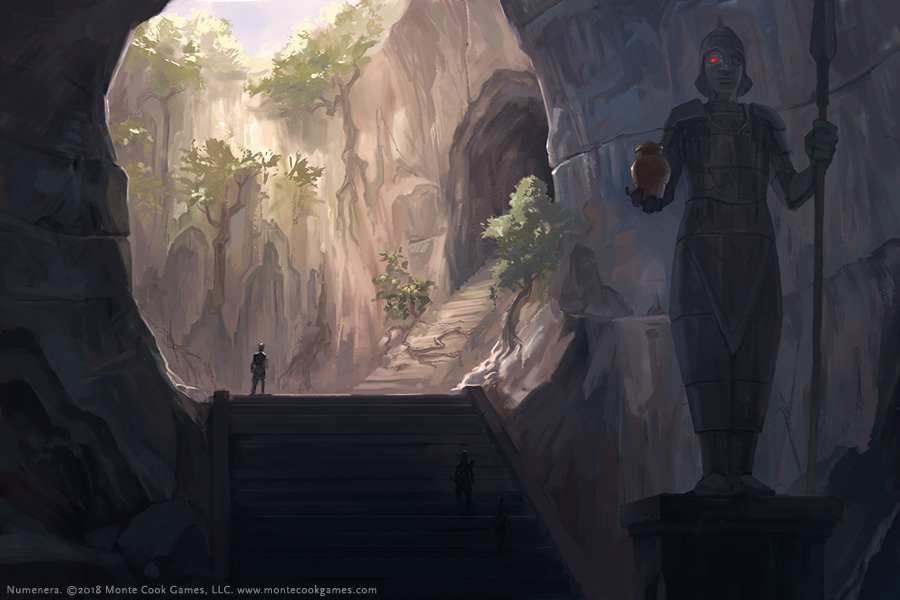 But this isn't a new edition. There have been no substantive changes to the way the game plays mechanically, or the way NPCs, creatures, cyphers, artifacts, and other items work. And the setting isn't changing either. This means you can keep using your bestiaries, adventures, card decks, character portfolios, and books like Into the Night, Technology Compendium, and Jade Colossus, and we will not issue any "second editions" of our supplements. And you can use future supplements with the existing Numenera corebook, if you choose to keep using it instead of Numenera Discovery. You don't even have to make any changes to your current character—although you'll now have more options as your character advances.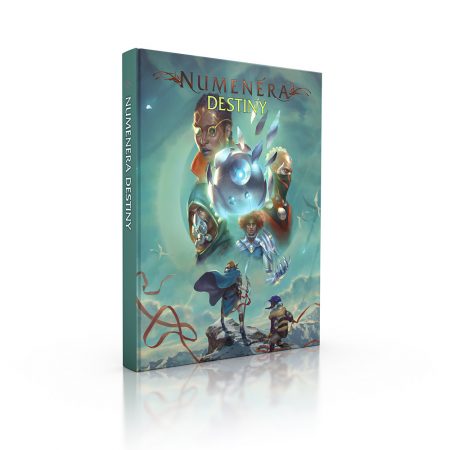 Numenera Destiny
Become a part of the setting, and help shape the future of the Ninth World. The people of the Ninth World are locked in a medieval-like state, a world of struggle and danger and often suffering—all in the shadows of the prior worlds' wonders. Numenera Destiny allows you to build adventures and campaigns in which players don't just explore the wonders of the past—they utilize them to help lift the Ninth World out of darkness. You can make the world a better place. Help a community defend itself from abhumans or the iron wind. Create centers of learning or trade. Innovate, build, and protect. Manage an entire community and help it prosper and grow—or simply create new cyphers, a cool base, or maybe a vehicle for your adventuring group. Numenera Destiny will allow you to take what you discover and make use of it, for yourself or the future of the Ninth World.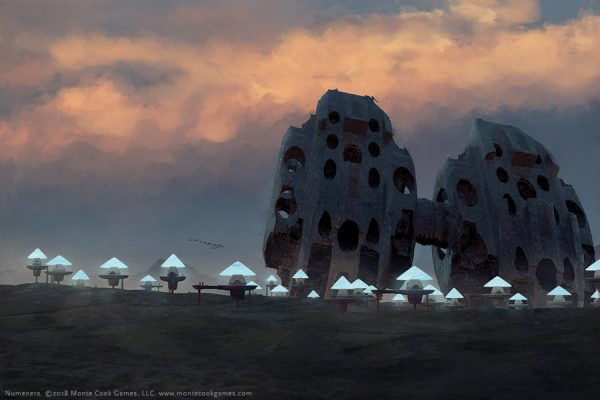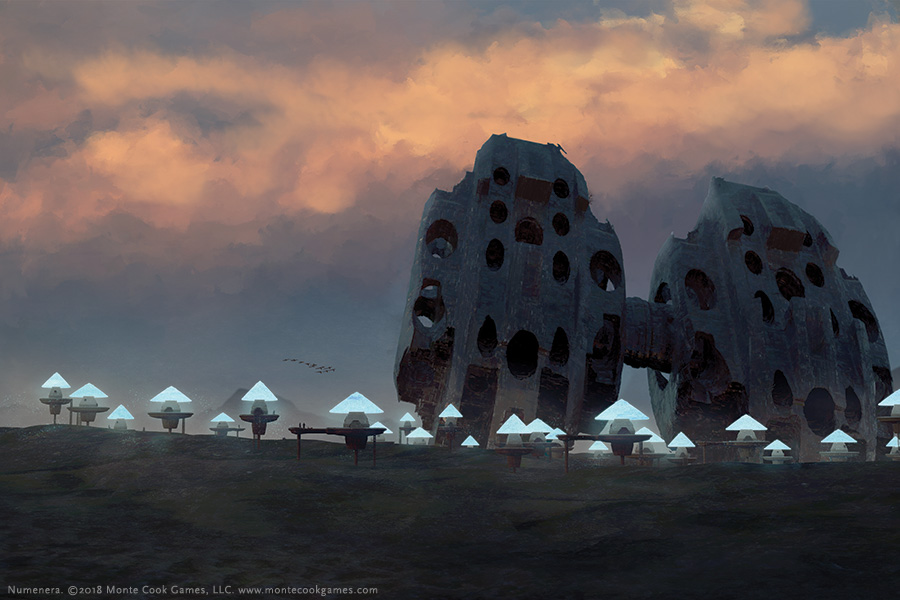 Discovery through exploration of the weird and wondrous remnants of the prior worlds—is the core of Numenera play, but now Numenera Destiny gives you new things to do with your discoveries, and entirely new and epic ways to structure your game. You'll discover materials, power sources, and treasures that you can utilize in a entirely new, robust crafting and building system. And Numenera Destiny introduces the Arkus, Delve, and Wright—three new character types—along with a number of new descriptors and foci geared toward this innovative style of play.
The Slipcase Set
You can preorder or purchase Numenera Discovery and Numenera Destiny separately, but the best deal is to get them together. As a set, they come in a beautiful and sturdy slipcase, at no increase in price. The slipcase set also comes with several useful additional components, and a unique metal Order of Truth medallion. The entire package has a wonderful, deluxe feel—but at no more cost than purchasing the two corebooks individually.
Pre-order the books